Reading time: 1 – 2 minutes
Segur que tots sabeu que el Windows XP és capaç d'obrir la
sessió d'un usuari sense demanar-nos el password ni res de res.
Però sempre que ho voleu fer no recordeu on carai era el lloc on
activaveu això? almenys aquest és el meu cas. Així que
aquí teniu un mini-howto que ho explica.
Primer llenceu des de la consola (cmd.exe) això:
control userpasswords2 ús sortirà aquesta
finestra: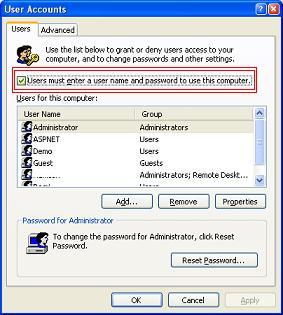 ara només cal que desmarqueu la 'checkbox' que posa: "Users must
enter a user name and password to use this computer" i premeu "Ok" i ja
està. Fàcil,eh!? lo dolent és amb la facilitat que ens
n'oblidem.
Aquest 'mini-howto' l'he extret de: Configure Windows XP to
Automatically Login