Reading time: 2 – 2 minutes
Fa unes setmanes ús vaig explicar que havia posat dos dels meus servidors NTP (Network Time Protocol) al pool d'espanya. Doncs bé hi ha un servidor el 83.175.213.76 que s'em tenia greus problemes per mantenir el sincronis-me, ja que l'openntp si té un 'desfasse' massa gran no et sincronitza la màquina i per tant el meu score dins del pool és un desastre. Per tal de solucionar el problema ara llenço el dimoni ntpd amb el paràmetre -s. Si useu gentoo l'únic que heu de fer és afegir el paràmetre a:
# cat /etc/conf.d/ntpd
# Copyright 1999-2004 Gentoo Foundation
# Distributed under the terms of the GNU General Public License v2
# $Header: /var/cvsroot/gentoo-x86/net-misc/openntpd/files/openntpd.conf.d,v 1.2 2004/11/22 15:27:51 vapier Exp $
NTPD_HOME=/var/empty
NTPD_OPTS="-s"
Aquí podeu veure les perdues d'score que havia acumulat el servidor: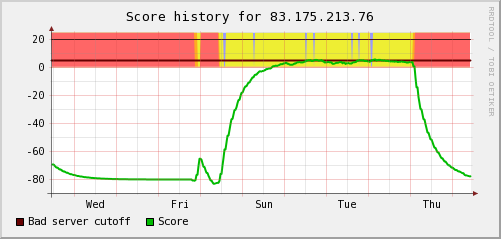 Update:Des del canvi comentat podeu verure l'evolució: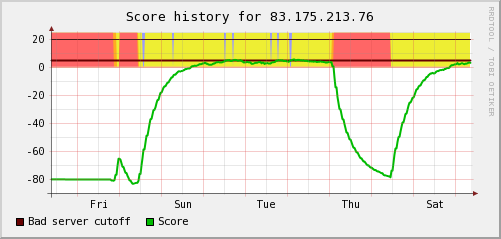 Update II he trobat aquesta 'deducció' que vaig fer jo solet de casualitat en un HOWTO d'OpenNTPD per Gentoo.