Reading time: 3 – 5 minutes
Un altre producte a l'estil del Chumby:
The Neuros OSD was created to connect user's computer and entertainment worlds. Among many other things, this would allow users to watch video downloads and digital photo slideshows on TVs and listen to MP3s through their stereos. Previously the choices for doing this have been restricted to two approaches: all-in-one PC-based media centers and limited, closed "embedded" devices in various forms: PVRs, digital media adapters and streaming devices.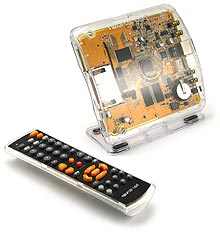 The OSD also enables users to take their video on the go and watch video on any device with non-DRM, standard MPEG-4 files. The OSD supports virtually all devices with data conversion or requiring extensive set-up. There are no subscription fees associated with the use of the OSD.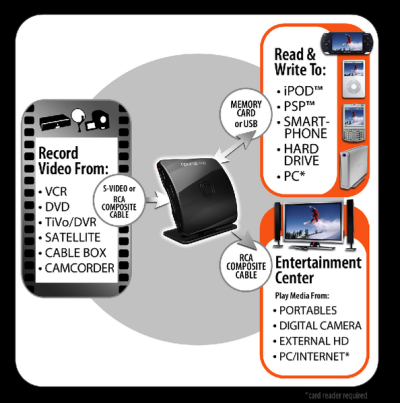 The OSD enables all of the above by combining many of the attributes of PCs and embedded devices in a single device.
Like a PC, the OSD is open, expandable, flexible and standard and uses software that is upgradeable and relentlessly enhanced. By taking these attributes and applying them to an "embedded" consumer electronics device, the OSD can evolve and grow to meet all the expanding needs of the digital consumer in a device that, unlike a PC, is small, inexpensive, silent, and designed specifically for the job.
The Neuros OSD runs Linux with a USB host, built-in networking, and IR blaster. It has a dual core processor from TI that was designed specifically for multi-media applications and can encode and playback full DVD resolution MPEG-4 and play virtually all forms of digital audio and pictures. It connects directly to different accessories like iPods, USB webcameras, external DVD drives, and external hard drives. It also records onto memory cards for easy transfer to PSPs, smartphones, and other non-USB portables.
In short, the Neuros OSD contains the essence of what consumers want in a device to bridge their computer, home A/V systems, and portables without the baggage of a legacy PC system.
MPEG4 encoding and decoding (as many formats and wrappers as possible) – D1 (720×480)resolution at 30 fps
MPEG2 encoding and decoding
Ethernet
Linux (2.6 Kernel)
Dual Core Processor ARM9/TI DSP
SD/CF/MS card slots
USB host
IR Blaster
IR remote
The front of the device has the following I/O: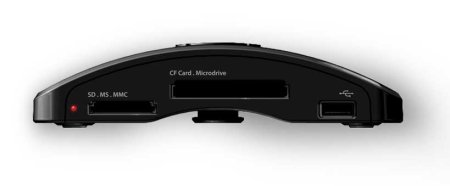 IR receiver
USB Host
Multi-card (SD/MS/MS PRO/MS DUO/MMC)
Compact Flash (including microdrive)
Dual color LED (green and Red)
The back of the device has the following I/O:

Power
Serial connector (to conrol tuner boxes and connection to PC for developer debugging)
IR Blaster (for controlling tuner boxes)
S-Video input
Ethernet 10/100
Composite Audio and Video input and output (RCA connector cables included)
NOTA aquest post esta escrit a basa de copy/paste del wiki de Neuros OSD.
A linuxdevices hi ha un bon review sobre el Nueros OSD, es pot ampliar detalls des d'allà.