Reading time: 3 – 4 minutes
Aquesta empresa de capital risc acaba de presentar un mini-caixa de la mida d'una targeta de crèdit, amb dues connexions ethernet una cap a l'ordinador i l'altre cap a internet. La idea és fer de firewall personal per ordinadors aïllats o com a molt protegir petites xarxes de fins a 5 o 6 ordinadors connectant-hi un petit switch (o HUB). Com no podia ser d'una altre manera aquesta caixeta porta un Linux que s'encarrega de fer el que a Yoggie en diuen Personal Security Gatekeeper, o sigui donar funcions de:
Stateful inspection firewall
VPN client
Intrusion detection and prevention
Four transparent proxies: HTTP, FTP, POP3 (Pro model only), and SMTP (Pro model only)
Antivirus, antispyware, antispam (Pro model only), antiphishing (Pro model only)
Yoggie "Layer 8" security engine (patent pending)
Yoggie multilayer security agent
Content filtering
White and black lists
Yoggie health monitoring
Web management and monitoring said to provide "real time, constant, consistent and un-paralleled visibility into distributed laptop platforms, regardless of location"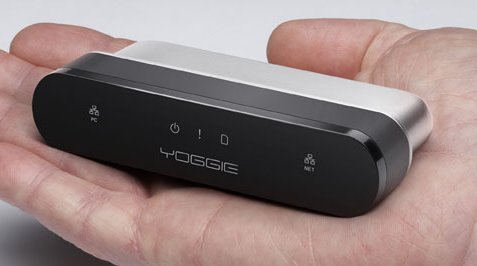 Tot això en ordinador ben petit però ben potent al mateix temps, de fet, esta disponible en dues versions la versió basic i la pro; les característiques del hardware són les següents:
Intel PXA270 (Bulverde) a 416MHz (basic) o 642MHz (pro)
64 o 128Mb SDRAM
64 o 128Mb Flash
SD slot (suport SDIO)
4Mb de secured flash
2 port 10/100 Ethernet
USB OTG (on-the-go)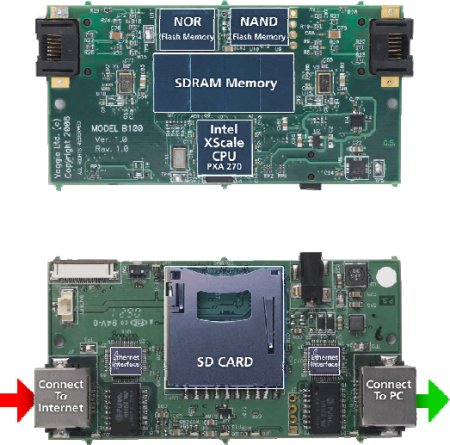 El producte es comercialitzarà al novembre a través de distribuidors a EUA, UK i Alemanya. El model basic costarà uns 180$ i el Pro uns 220$. Realment crec que relació qualitat preu és un molt bon producte per molts tipus d'usuaris. Sobretot en el camp del SOHO o els RoadWarriors que van per tot arreu amb el portàtil. Esta clar que pels professionals de les TIC no és res de l'altre món però pels usuaris en general crec que per fi hi ha una bona alternativa a les appliances que treuen les companyies d'antivirus que sota la meva opinió en general són lamentables i una presa de pel.
El producte l'he tret de linuxdevices per variar, concretament de l'article Tiny Linux gadget protects Windows XP laptops. Si com a mi el que més us ha agradat del producte és la placa base podeu ampliar informació sobre el tema a l'article Freescale ships "SideShow" devkit — but where's the Linux?. També podeu buscar més informació a google amb la keyword "Bulverde".