Reading time: 2 – 3 minutes
Avui he descobert per casualitat a través del DD-WRT el servei d'AAA que ofereix l'empresa Sputnik a través d'internet, com a servei, venent el software i fins hi tot el
hardware si ens interessa. Realment el tema m'ha semblat molt bona idea. Ja que un WISP podria montar una infraestructura realment molt professional gràcies només a aquest software i a hardware tan econmòmic com el Linksys WRT54GL o d'altre una mica més professional com ara el de mikrotik.
A més ens permet unificar serveis de portal captiu de forma molt senzilla, ja que per exemple, a través de la última versió del firmware DD-WRT del WRT54GL i del client de Sputnik per routerOS de mikrotik. Podriem montar una solució completament integrada. Les avantatges són infinites val la pena donar un tomb per la web de l'empresa i fer volar la imaginació.
Resumint les solucions software d'Sputnik, tindriem això:
Embedded software, the Sputnik Agent, running on a growing number of wireless access points (APs) or powerful network gateway
Server software, Sputnik Control Center, which runs in your data center, or which we provide as the hosted SputnikNet service
Business software Modules, options that enable service providers to charge credit cards, PayPal® accounts, utilize pre-paid cards, or plug into existing RADIUS or Microsoft® Active Directory "single sign-on" systems
A continuació us recomano donar un cop d'ull al següent gràfic que us servirà per aclarir les idees, de com funciona tot plegat.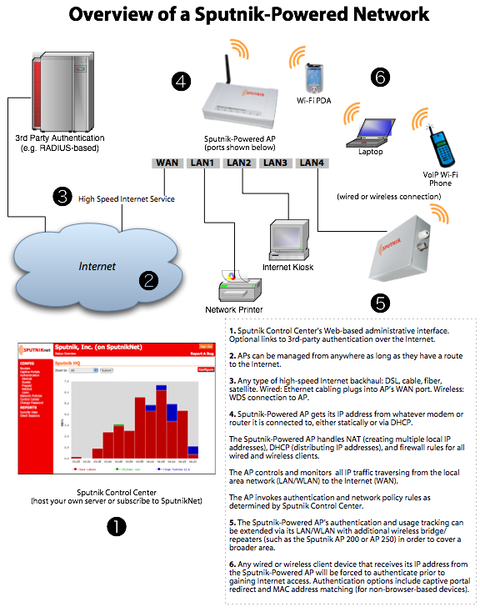 Realment de tan en tan, troves coses amb les que t'emportes grates sorpreses. Llàstima que no tinc mai prou temps per provar les coses a fons, perquè aquest s'ho val.