Reading time: 3 – 4 minutes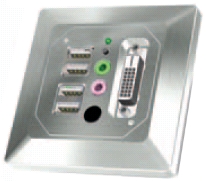 Un PC… doncs aquesta és la última novetat que he vist a Windos for Devices. Un PC amb Windows CE, jo diria que també ha de funcionar el linux sense problemes.
En un espai minúscul ideal per moltes oficines i per més d'un racó de la casa, com per exemple, la cuina i el WC… sé que sona a raro però l'únic que fa que ja no ho tingui montat és que no tinc un duro. Sinó un experiment d'aquests per un preu raonable (~300€) et permet tenir amb una pantalla tàctil el següent: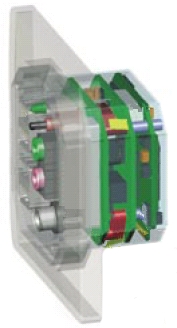 AMD Au1500 (6700 a 333 MHz o 6800 i 6900 a 500 MHz)
fins a 128 MB DDR RAM
fins a 64 MB DoC (Disc On Chip)
Analog VGA out, 1280 x 1024, 16M colors, 4 MB/8 MB (6700/6800) graphics RAM
o bé: DVI out, 1600 x 1200, 16M colors, 8 MB graphics RAM, dual screen support
10/100 BaseT Ethernet with auto negotiate
4 USB 2.0
16-bit stereo audio, line in line out jacks
6700 — 5 VDC at 2.4 A
6800 and 6900 — Power over Ethernet, 36 to 56 VDC
Una plataforma ideal per montar-te els teus 'gadgets' per tota la casa. A més al tenir un DoC permet tenir-hi instal·lat un petit sistema operatiu que pot carregar dinàmicament de la xarxa la resta d'aplicacions.
Si us agrada el tema a Windows for devices també hi ha un parell d'articles més sobre 'mini-pcs' força interessants:
Scalable embedded boardsets support PoE, run Windows Embedded Blue Chip Technologies has introduced a series of embedded computer boardsets based on x86-compatible processors ranging from 400MHz to 1GHz. The MagnumX two-board sandwiches are based on the company's ETX modules, run Windows XP Embedded and Windows CE, and can be powered through their Ethernet connectors, according to the company.

Ultra-thin "panel PC" powered by Ethernet DSP Design has introduced what it claims is the first flat panel PC to use the recently adopted Power Over Ethernet (PoE) standard, IEEE 802.3af. At less than 1 inch thick, the POET6000, which runs Windows XP Embedded, is ideal for wall mounting, the company says.
Si tan de windows us ha fet mal també hi ha un lloc molt conegut a internet on es parla d'una temàtica molt semblant amb linux: linuxDevices.com.Però lo xungo és que aquests models que he comentat allà no els he vist. Però com us dic estic convensut que el linux funcionaria en els dispositius que he comentat.