Reading time: 3 – 5 minutes
gmustix: Encara més petits que els micro-ITX uns ordinadorets que fan 8cm x 2cm x 6.3cm amb processadors XScale PXA255 de 200MHz i 400MHz, amb 64Mb d'SDRAM i 16 o 4Mb Strataflash. A més tenen una gran varietat de mòduls d'expanció (resum característiques). Hi ha mòduls de tot tipus: USB, Compac Flash (storage i wifi), bluetooth, serie, MMC, targetes de so i segueixen ampliant el catàleg. No us espanteu a més el que seria l'ordinador bàsic el podeu comprar des de 99$ fins a 174$ segons el model.
Realment una passada, a més ve amb Linux de serie amb amplicacions com:
System: Linux, busybox, hotplug, mtd-utils, pcmcia, u-boot
Communications: Bluez, sshd, hostap-conf, links, lrzsz ntp, rendezvous, udhcp
Web/Database/Scripting: boa (an HTTP server) and wget (an http client)
Libraries/Miscellaneous: uclibc
Audio: Aumix, bplay, madplay
A més permet instal·lar coses com les següents:
System: Bash, bzip2, coreutils, diffutils, ed file, findutils, gawk, grep, gzip, less, microwin, nano, procps, rxvt, sed, sfdisk, tar, tinylogin, tinyx, util-linux
Communications: Ckermit, bridge, dhcp_relay, dnsmasq, dropbear, hostap, iproute2, iptables, libpcap, microcom, mrouted, netkitbase, netkittelnet, netsnmp, ntpd, ogg, openobex (includes opd), openssh, openssl, openvpn, pppd, snort, socat, tcpdump, tn5250, ttcp, vtun, wireless-tools.
Web/Database/Scripting: Berkeleydb, perl (php) (postgres) python, (squeak) SQLite and SQLite3 – which use readline and ncurses
Libraries/Miscellaneous: Gettext, gpsd, gpsutil, jpeg, libpcre, lzo, mkdosfs, mke2fs, ncurses, newt, slang, zlib
Development tools: Autoconf, automake, binutils-uclibc, bison, ccache, flex, gcc-uclibc-2.95, gcc-uclibc-3.x, gdb, libtool, ltrace, m4, make, patch, pxaregs, strace, valgrind.
El model connex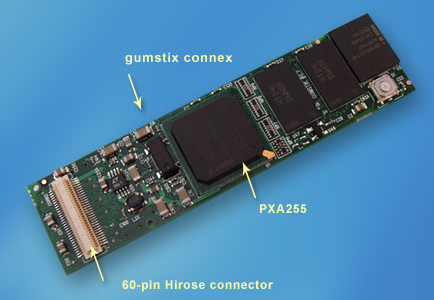 El model connex amb un slot d'extenció amb CompactFlash + Ethernet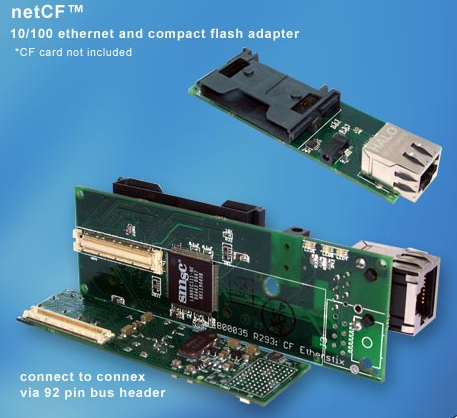 Aplicacions
No us perdeu les cosetes que en fan amb aquests ordinadors realment espectacular. La gent els usa per controlar helicopters fets per ells mateixos i controlats remotament amb el nostre PC via bluetooth. A més també en fan avions i robots, una passada. A mi se m'acudeixen moltes aplicacions domòtiques i d'altres a nivell professional que tampoc cal comentar aquí.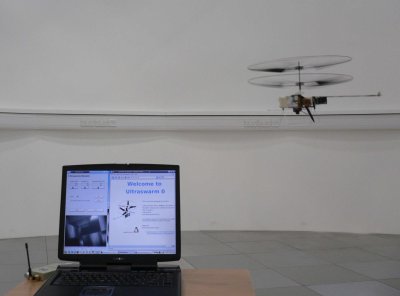 Conclusió
Realment ara si no posem un linux a cada raconet de la nostre vida ja no és per la mida, la potència i el dinamisme. Potser encara pot ser per una qüestió de preu. Si, perquè malgrat a primera vista semblin uns bons preus els que us he comentat podeu comprar per quasi el mateix preu ordinadors amb molta més potència, una miqueta més grossos uns 17cm x 17cm i amb molt més dinamisme. Però si el que ens preocupa és la mida, realment ja tenim una bona solució.
Una cosa a provar seria si el GNAP que comentava l'altre dia funcionaria en aquest ordinadores, això ja seria l'ostia,eh!? jo crec que amb una MMC o una CF, funcionaria segur.