Reading time: 2 – 2 minutes
En un taller que va montar en carles ja fa un temps sobre laboratori amb el WRT54 (més info)
vaig poder veure com treballava amb el Mac OS X 10 i em va deixar 'flipat' una funció de l'escriptori que es diu Exposé. A la web del Mac OS X 10, ens expliquen això sobre el tema ús recomano que ús ho mireu.
Perquè aquest feed, doncs perquè he trobat una eina per linux que fa el 'mateix' (ho poso entre cometes perquè esta en desenvolupament encara). Així doncs, no acaba d'anar del tot fina però algo es algo i espero que ben aviat poguem disfrutar d'aquest funció que trobo tan útil. Aquesta eina és l'skippy
Aquí en teniu una captura de pantalla: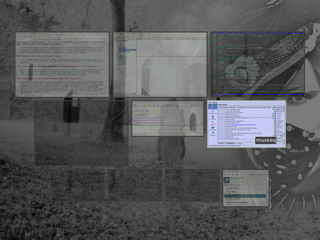 Què fa l'skippy: Skippy is what (I think) is best described as a full-screen task-switcher for X11. It tries to provide an alternative when taskbars or regular task-switchers aren't the most efficient way of switching tasks (like when you have a lot of applications open). When activated (currently only through a hotkey), it will arrange and scale snapshots of all windows on the current desktop and it'll let you pick a window using a mouse or a keyboard.